News
The Role of social media in 2023 elections - Adeyemi Oluwatosin Dotun
Posted by:
NOTICE.COM.NG Staff
Posted on: 2021-10-12 21:24:55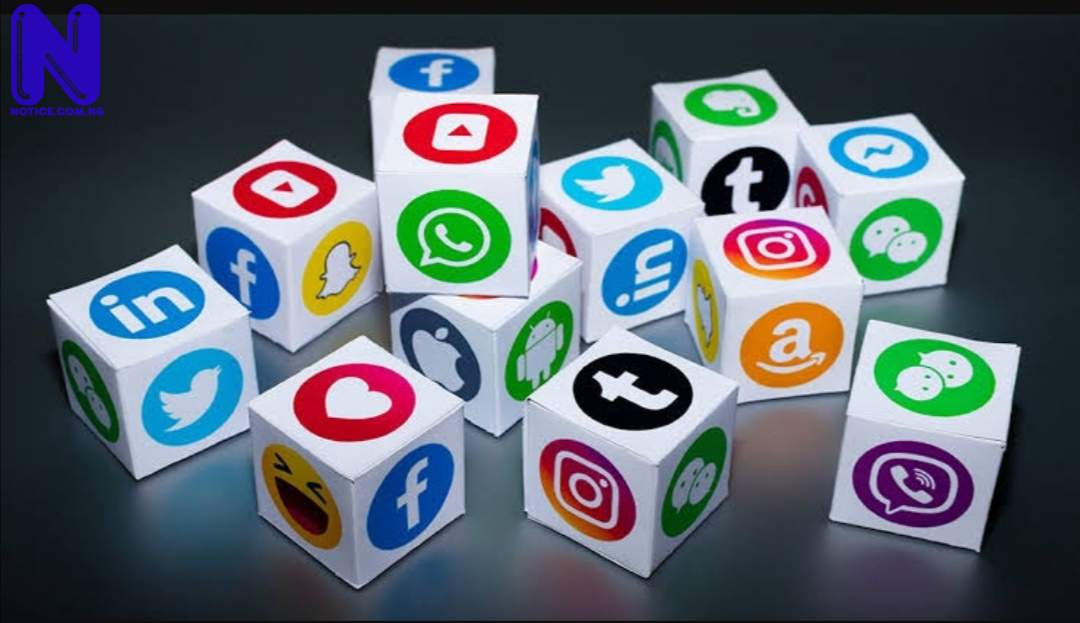 Social media has come to stay and has played a vital role in any matter of importance, elections inclusive the world over. Social media are websites and applications that enable users to create and share content or to participate in social networking. As stated by Wikipedia, they are interactive technologies that allow the creation/sharing of information, ideas, interests, and other forms of expressions via virtual communities and networks. Some of the more popular ones include Facebook, Whatsapp, Youtube, Instagram, Twitter among several others. Elections are a formal and organized choice by vote of a person for a political office or other position. It is also a formal group decision-making process by which a population chooses an individual or multiple individuals to hold public office.
Social media apparently has taken over the conventional media world of TV and newsprint journalism and has produced millions of self made journalists. Everyone now seems to be able to dish out news and be a recipient of same good or bad. The world over, we have seen recent effects of social media in processes of elections of countries: the America 2020 elections and the 2015 and 2019 elections in Nigeria. Sometimes, as it affects the political class which may inadvertently affect the coming elections. An instance of this is the #EndSARS protest that started on social media and maintained a giant position on same and physically.
The role of social media, as any other thing, has its negative impact and positive impact it sure plays in elections although one may far outweigh the other. Narrowing the scope of this work, sifting through the impacts of social media, we will look into the roles it may play in the upcoming 2023 elections in Nigeria.
DO YOU KNOW >>> I carry Bishop Oyedepo's virtue more than some Living Faith's pastors, members – Pastor Ibiyeomie
Since a lot of African states, Nigeria inclusive, control the state owned media outfit, there is a form of monopoly. This media outfit, because of the intensive capital it is able to afford, has a wide range of equipments and coverage than the average privately owned media outfits. The ruling party and government therefore apart from enjoying free airtime on these outfits, ensure they are solely aired and other political parties cannot dare to use them. They thereby eliminate a fair political playing field.
Social media has helped other parties to go all out to push their presence to the populace and also present their agenda. Also, the use of adverts on social media is drastically less expensive to that of the conventional media. Small political parties with limited resources, little or no sponsors and independent candidates can benefit. The last two general elections in Nigeria both 2015 and 2019 have seen social media play an increasingly important role. During the 2015 Presidential elections in Nigeria between Ex-President Ebele Goodluck Jonathan of the People's Democratic Party and President Muhammadu Buhari of the APC, the social media was efficiently used.
It's no gainsaying that the PDP had been the ruling party in Nigeria across all levels of government in Nigeria since 1999. A coalition of quite a number of prominent minority parties had to come together to form an alliance called APC. But they knew the strategy wasn't enough to push out the ruling party and the use of social media was massively employed in that respect. They used the social media: to push out their agenda for the country; opinion formation and to push out their presence and most importantly to worm their way into the hearts of the top users of social media in Nigeria which are the youth generation. This is in order to gain a larger support for their cause. The younger generation practically lives on the social media. Political consciousness among Nigerian youths has risen to an all time-high. The agenda won hands down. The social media role has ensured freedom from censorship, arbitrary attack, interference, free access to necessary information and a pluralism of voices and not just state controlled media.
READ ALSO >>> God will not abandon Nigeria – Oshiomhole - 2023 elections
The downside of these was that a lot of propaganda was pushed on social media about the ruling party which quite typical of social media was largely unverified and taken hook, line and sinker by the consumers of the information. As already mentioned above, the new government of APC was largely helped in by its youth populace and their social media. The ominous large presence of social media of dictating the trends of things in Nigeria was further driven home during the End SARS protest of October 2020. The same government who employed the use of social media and propaganda to come into power had to turn round to condemn it, brought up hate speech and had to even ban Twitter in Nigeria till its youth and "their social media" behave themselves.
Well, it is quite appalling that social media has a lot of self made journalists who spread stories, videos and images especially with the use of Photoshop to disseminate unresearched and unverified information to the public on millisecond basis. Some adults who got swayed by the social media of 2015 had become wary of information coming from social media especially after the End SARS protest. Quite contradictory, same adults don't blink twice in spreading baseless prayers to "100 people" or warning people about the need to give Whatsapp permission.
Misleading statements and false news on social media on political campaign undermine traditional filters based on journalism values of truth, fact checking and separation of opinion from fact. In 2019 general elections in Nigeria, the turnout of voters wasn't massive as that of the 2015 elections partly due to the disappointing expectations from the government. The believe that whether you vote or not, the ruling party always have their way but more importantly to the many voices of news and information carried around social media of intention of violence in some quarters.
READ ALSO >>> Things to know about new, returning shows, other exciting content on DStv, GOtv
During the elections, false news were purportedly dished out about major polling units so as to dissuade people from turning up so the allege rigging for those wards can be perfected. Election machineries too have devised other means other than snatching of ballot boxes which can be captured on devices and results of poling units snapped and circulated around. They would rather dissuade people from coming to vote so there will be no record of their rigging. in spite of that, social media has come to stay and will continue to play a massive role in elections.
The advent of social media has however brought in two warring parties online. The wailing wailers and people who seem not to be saved by the savior after four years and the popularity seemed to wane in 2019. Social media foot soldiers that are anti government and pro government have pervaded the social media. This has become a twist to the united front in the pre election 2015 of Nigeria, particularly in the way the two parties lashed out at each other, debunked each other's assertions et al heats the polity. This sure has a great impact in the 2023 elections. Self proclaimed propaganda secretaries increasingly work online working to attack and discredit political opponents through the spread of falsehoods. Government's top officials have personal verified accounts on social media where they make their popular and unpopular opinions and foot soldiers storm to either hail or attack same. This is not peculiar to Nigeria alone as this was also revealed in the 2020 American election of Donald Trump versus Joe Biden.
The strong impact was felt to the extent that the vituperations from the then President Trump had to earn him a total ban and deletion of his account from the 4th largest social media outfit Twitter. This enraged his supporters and they had to move to other social media apps that were not one of the major ones to continue their discussions. These apps include MeWe, Gab, Rumble and Parler. Gab notably claims to champion free speech with no censorship on people's vents and opinions. If social media had a tremendous impact in the processes and outcome of the American elections, then, that of Nigeria will not be an exception.
HILARIOUS >>> WATCH Comedy Video: Mark Angel - Total Stranger
However, the risk that information could be manipulated on social media to serve political ends or instigate violence should not preclude key election stakeholders in Nigeria such as the INEC from being active and engaged across social media. These key election stakeholders must strategically engage online and integrate such social media approaches into a wider engagement strategy alongside. Nigeria has not been left out and will not be left out of its impact in the 2023 elections.
The development of advanced technologies for mobile phones, internet and hence social media has given people large access to information about elections of all levels of government. The information the social media brings include: the aspirants of political parties, voting, monitoring elections processes from its very beginning to its end in voting wards to the extent of capturing of videos of ongoing voting and activities of party agents. They also capture documents and pictures of voting lists and collated results of voting centers against the electoral laws of using phones. This in particular has put parties on their toes as it seems it's no longer business as usual of engineering data which cannot be traced.
This has given voice to people who would normally not take part in political processes. It's like a beam of hope in the quagmire of election abracadabra. This will play a large role in the 2023 elections. Arguably, the emotions running in the country at the moment is to see a definite goodbye to the present government in power. Monitoring of elections by capturing videos, documents and pictures in the processes will definitely play its role in the 2023 elections.
READ ALSO >>> Video of massive estate EFCC allegedly traced to Okorocha's wife - Imo
Furthermore, the distribution of public opinion polls on party candidates has gained more grounds with the use of social media. This, neither a flux nor influenced tells the true state of a party and its candidate in the mind of the populace. It helps the populace to know the vox populi of the choice candidate of the people. On the other hand, it helps political parties to realize where they stand, the strength of their campaigns, the popularity of their candidates and what they need to adjust and bring in to achieve a win at the polls. Creating polls pre election has been the order day and it will sure still play its role in the 2023 elections. We would not want to divert into the aspect of politicians having their way if the voices of the majority does not favor them at the polls. But as discussed a bit earlier, the use of social media has served as a watch dog and has put them on their toes. This will surely change the narrative.
Political awareness and consciousness among Nigerian citizens has massively improved especially the wind of apathy among youths. The youths are now more politically conscious and now demand accountability using the means that's in their comfort zone; social media. Some opt for it to hide behind the keypads to vent their opinion on matters of national importance. Some also see it as having a wider coverage to bring the attention of the intended leaders and the entire world; such is the matter of the End SARS protest. This was majorly centered on the high handedness and abuse of office and powers of a section of the Nigerian police called SARS operatives. The present generation of young Nigerian People is not politically docile and would make a huge impact in the 2023 elections and other future elections.
Also, at various times the youths have taken to the streets of social media to protest massively on political matters they are dissatisfied with. This is not about to end but seems to just begin, as agenda of parties, choice of candidates, every political move and action will be subjected to strict scrutiny. These all affect the processes and outcomes of the 2023 elections and the political class has come to know this and is making sure they are able to par with this trend of things.
LISTEN TO >>> Music Mp3: Simi - Woman
The shift of power to social media has a power bloc to reckon with in 2023 elections. It has come to be accepted and has played key roles in elections, Nigeria's inclusive. in spite of that, series of safeguards should be put in place to prevent abuse of the political process on the social media as any other enterprise.
Visit:
WATCH >>> Video: Simi - Woman
READ ALSO >>> Download Mixtape: Best 9ja RnB Mix

For All Nigeria Past Questions Visit www.QUESTION.NG
Kindly share this post on different Social Media below
Tags:
2023 elections
Adeyemi Oluwatosin Dotun
Promoted
COMMENTS
NOTE: User comments in this section are, as the name implies, provided by users of this website. The question.ng team is not responsible for, nor do they endorse, any of the information provided here.