News

#EndSars , End Sars Protest , End Police Brutuality , EndSars
HOW I WAS KIDNAPPED FOR 6 HOURS BY @PoliceNG ANTI-KIDNAPPING SQUAD (AKS) ALONG IBADAN-IJEBU ODE ROAD ON 2ND-OCT-2020

Posted by:
Tiamiyu Saheed Oluwatosin

Views:
151

Page likes:
0

Page dislikes:
0

Posted on: 2020-10-10 10:38:00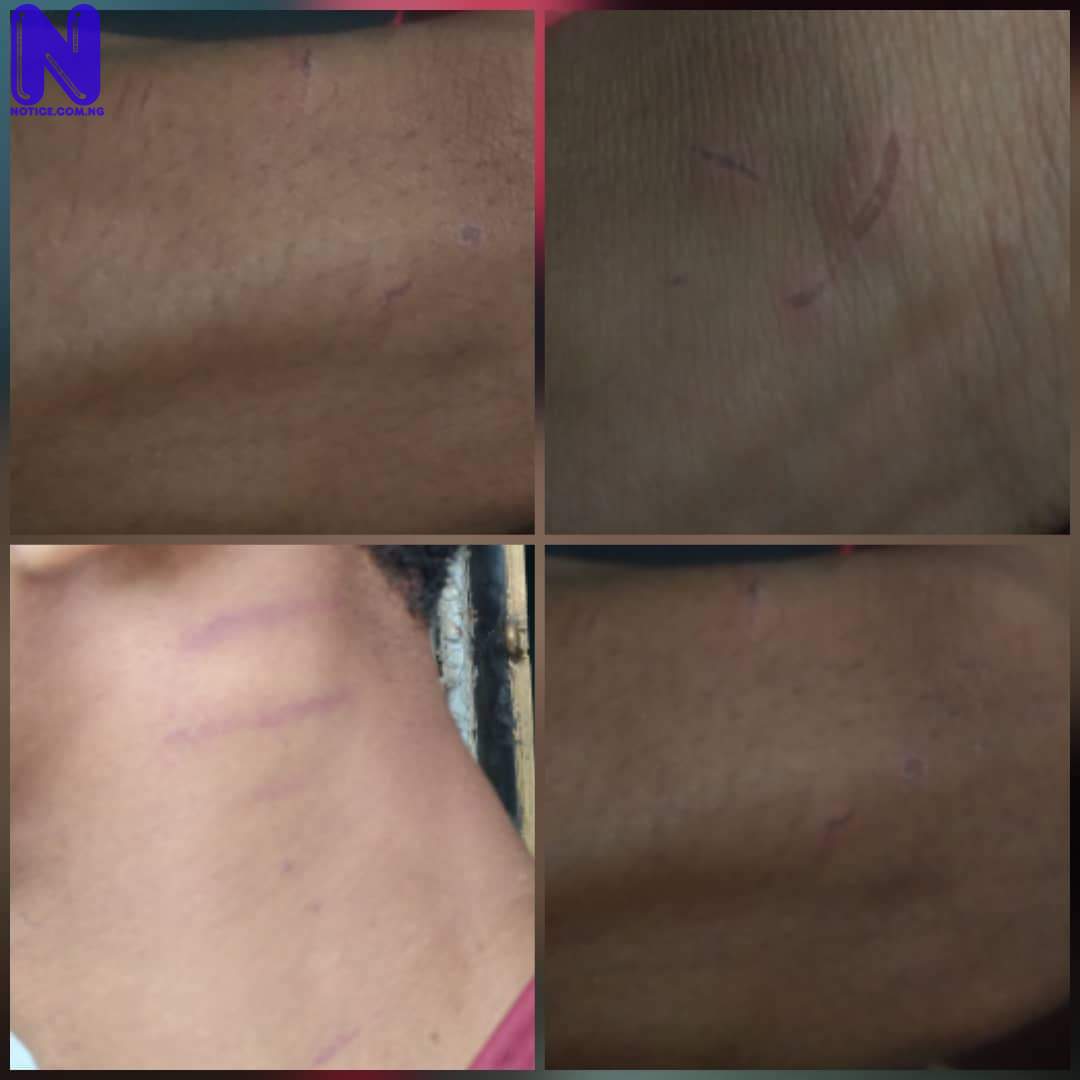 HOW I WAS KIDNAPPED FOR 6 HOURS BY @PoliceNG ANTI-KIDNAPPING SQUAD (AKS) ALONG IBADAN-IJEBU ODE ROAD ON 2ND-OCT-2020
I think it's time for me to narrate my ordeal with Police AKS Oyo state command with patrol Van no. NPF 9969C on 2nd-Oct-2020 10:55am, @NGRPresident @segalink 1,
I was on my way to Oru-Ijebu from Ibadan via Ibadan-Ijebu Ode road in my Black Acura TL 2008 car to pack my loads to Ibadan , in preparation to finally relocate to Mokola, Ibadan where my NYSC PPA is located, around 10:45am, I was stopped by one (Mr Rachael) of Six @PoliceNG Anti-kidnapping squad Oyo State command, which told me to pack in which I do, I was told to bring the car documents and my driving license, which I presented to him and they are all still valid, so after checking my documents, my car trunk was checked as well, so I expect the checking officer to handle over my documents back to me and tell me to leave, instead I was asked who is the owner of the car, which I replied "it's mine" and I was asked what do I for living and I replied "I am Computer Sciencist, Software Engineer, Web Developer, Blogger, YouTube Content Creator and a serving NYSC Corps member (in which I showed my NYSC temporary Id card)" After showing them my NYSC Temporary ID card, He replied am "you are lying, you are Yahoo boy" and I replied him that "am not a Yahoo boy and will never be a Yahoo boy", and he said I should open and bring my phone and I asked for what, he replied that he wants to search my phones, and I replied him that "it's intrusion of privacy that I can't open my phone for him to check", this my response prompted him to take me to their sqaud leader nicknamed "Baba commander" and gave my documents to him, this man re-checked my documents and delayed me for about 30 minutes before taking asking me how can I prove myself that am not a Yahoo boy, immediately I showed him my Temporary NYSC ID, and he replied that he doesn't trust my temporary Id, I went into the car to bring my Call-up Letter and Nysc green card, and he said okay, also asked how can I prove my other professions to him, I showed him my YouTube channel (Afro-Rating with nearly 90,000 YouTube subscriber) and also showed him an internal memo of my NYSC PPA, which was used to assign official Laptop and Internet Router to me stating for use by our web admin (with my name), which I used to prove my profession, then I expect all my credentials to be given to me and be freed instead they insisted that must checked my phone, and I insisted that I can't give them my phone, so my taught was they will take me to their station instead "Baba Commander" called his AKS squad member to come and deal with me that he's as a father is telling me to open my phone and insist on not opening it, he said am very stupid that I should be thanking God his here with his squad, if not they would have shot me from the back and claim am an armed robber trying to escape or if it was night, I would have be killed and thrown into river and they will even be the one to go and report it at office that I was attacked in the while driving, the next thing was a slap on me from the back by some of Police AKS squad member, Telling me authoritatively to open my phone, then he asked me to bring my car key, and I asked for what, he said he wants to search inside the car and I opened it for him, The man slapped me again and forcefully collected the car key from, while searching he saw my C&S holy Michael perfume, a candle and Coconut winded together with white and red thread, and he started slapping me again that am a ritualist at this time they were about four slapping and beating that am a ritualist and my phones were forcefully collected from me while am being beaten, at this point I could just not hold to myself again and I started shouting for help from cars passing by but unfortunately no one waited for me or came to my rescue, so while I was shouting for help one of the officer have already went to take hand-cuff and wants to forcefully put it my left hand which makes me shout to people passing more that "I do anything oo, nor I have any offense but they are beating and hand-cuffing me, because i don't open my phone, they are kidnapping me oo, people please help", while I was shooting about 5 of the six squad were already beating only me some were using sticking, some were slapping, some were giving me blow, I ran on the road and I said i'd rather be hit by car than die of @policeNg beating, 5 police officer beating only me, for not opening my phone I was beaten till am weak and I was forcefully handcuffed to a wooden seat dug into the soil by the roadside, after being handcuffed I was still even being slapped, I was left there for about an hour handcuffed like a hardened criminal, It was on the chair I pretend to have slept off on where I was handcuffed cause no one is helping me and after an hour, I had lost all water in my body which prompted to wake shout please give me water, I need water, they were laughing at me that I took codeine , that it's starting to calm down in my body, on hearing that from them I tried to play along as if I was intoxicated but I lied to them I only took "JEDI JEDI ALCOHOLIC HERB" last night, that I don't take Codeine or any hard drugs, but one of the police said NO am lying that if it was JEDI JEDI ALCOHOLIC HERB that my mouth will be smelling of it, that he did not see any sign of me taking alcohol, BUT realistically, I don't take neither "JEDI JEDI ALCOHOLIC HERB" nor any hard drugs, i only told them that because I heard one of them saying am lucky this happen during the day light that if it was to be nighttime, I would have been shot at back and thrown in nearest river and drive my car into bush(on hearing this I was scared and I thank God that it's still day light and I made up my mind that I must do something to make sure I live this bush, before anytime, even if they should at least take me to the nearest police station in Ibadan), so that's why I lied to them I drank, I started drinking water to scare them, I drank about 4 sachet of water, one of their officer that beat me gave me with their own mindset that it will reduce my intoxication, meanwhile realistically am not intoxicated, even all the time they taught I was sleeping, I was only pretending, that's why I could hear all they said, It was after I drank about 4 sachet of water they were scared and they waited for me to wake up and asked for my MUM'S/or anyone they could contacts Number, cause I fake another sleep just to play along with what they say that I will still sleep after drinking the water that that's what will take all the hard drug/alcohol away from my body, I told them my MUMS phone number off-hand which was a sign of me knowing what am doing but they thought am intoxicated, and I was happy my trick worked, they waited about 2hours for my mum to arrive from OOU mini campus AGO-IWOYE where my mum work, while they were waiting, they asked me that did I know what I have put them through today, I pretended and said NO, they asked me can I open my phone now, I said why can't I open my phone, that I have nothing on my phone and that its with one of their officer, they said have I forgotten that they asked me to do so, I pretended and said NO, just to make the think all I'd earlier was not really intentional as they suggested, they said I don't remember calling them Anti-kidnapping squad a kidnapper I said NO, While this discussion was ongoing they removed the handcuff from wooden seat and put it in my second hand so that I can be mobile because I told them I want to urinate, I begged them to remove the handcuff from my 2 hands, they said they want my mum to meet me with my 2 hands handcuffed, my mum arrived when we were chatting, and when she saw me she was shocked seeing my hand hand-cuffed and started crying that what could I have done to warrant hand-cuffing, they told my mum all sorts of lie that I took hard drug, I was drinking and driving, I did this and that... they told her to thank God that they stopped me if not for that, that something else might have happened, so my mum now asked what's the way forward, they said they will take me to police station, I laughed because I know they can't with all they have done to me with any evidence, they knew if they take me to police station the case my backtrack, my mum knelt down and start begging them that they should help her that she didn't want me to be taken to police station, they now told my mum to go and bring 50,000 naira bail me, after several plea they later collected 10,000 naira ransom from my mum to free me to her, around 4:30pm they later collected , in my life I never knew police is not my friend till this very day, but thanks my God for saving me, if I had not behave like I don't know I what am doing by the time am shouting at them, they might have shot me to hide their brutality, they knew if they
DO YOU KNOW >>> Professor Pat Utomi narrates how operatives opened fire on protesters in Lekki - End SARS
READ ALSO >>> End SARS: Buhari breaks silence on protests, sends directive to IG of Police - BREAKING
READ ALSO >>> Tell soldiers not to kill any protester- NUJ tells Buhari - End SARS
BREAKING >>> Lekki massacre says Who gave the order - Fredrick Nwabufo

For All Nigeria Past Questions Visit www.QUESTION.NG
Kindly share this post on different Social Media below
COMMENTS
NOTE: User comments in this section are, as the name implies, provided by users of this website. The question.ng team is not responsible for, nor do they endorse, any of the information provided here.