Sport

Chris giwa , Nff office
Chris Giwa vows to resume at NFF office on Wednesday

Posted by:
Tiamiyu Saheed Oluwatosin

Views:
50

Page likes:
0

Page dislikes:
0

Posted on: 2020-06-29 12:59:14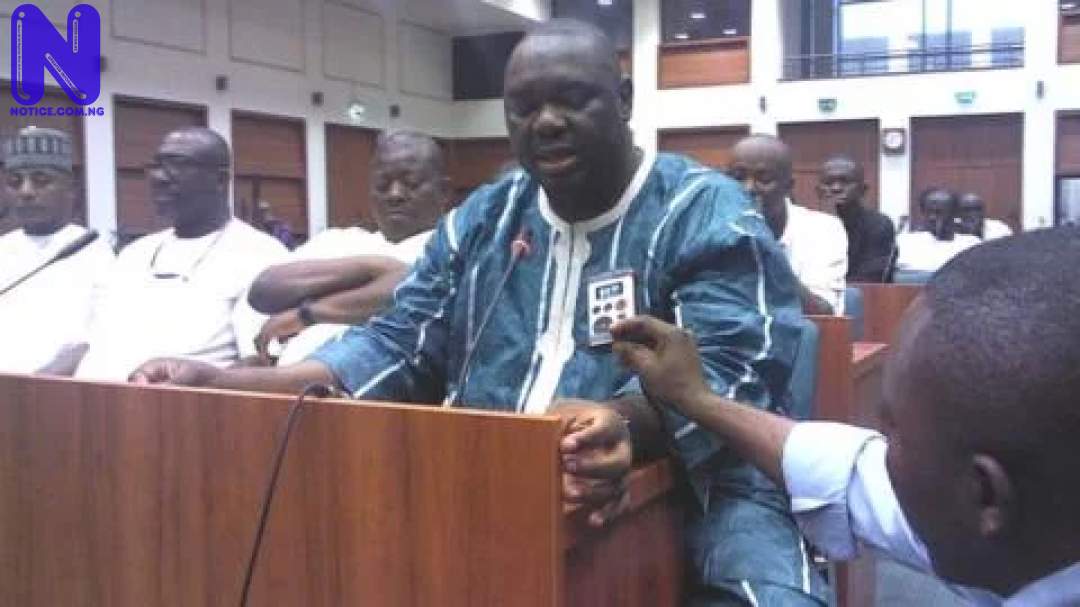 Chris Giwa has made it clear he will be resuming as the president of the Nigeria Football Federation on Wednesday.
He was speaking at a press briefing at the Numero Uno Hotel in Abuja, in his first official interaction with the media, after a Federal High Court in Jos, declared the Amaju Pinnick-led board as illegal.
"I got into Abuja this afternoon and I can tell you that time is not on our side. The NFF secretariat is there. That is our secretariat. I am not based in Abuja. I just came into Abuja this afternoon," Giwa said.
"We will be in the secretariat tomorrow. That is our secretariat.
"You saw our board members there on Friday. My board members waited for me yesterday.
"The major reason why we have not come to the secretariat is that we are law abiding people and we wanted the court order to be duly served to the relevant authorities. This is our right and we will be there tomorrow (Wednesday) by the grace of God."
Below is the full text of his speech during the media chat:
"We want to assure the nation that this is a mandate we are going to stick to with extreme patience. We must liberate Nigerian football from the clutches of those who fed on it and make it an investor-friendly game. We have decided to embark on this well-thought-out battle. We appreciate the enormity of opposition ahead of us but we shall conquer.
"We went through the laid down processes in the NFF Statute ahead of the 26th August 2014 electoral process. We got elected and sworn-in by the electoral committee the NFF Congress set up led by Mr. Amoni Biambo.
"In the processes of the post election issues, President Goodluck Jonathan intervened. Out of respect for his office and person, we went down and sought the Federal High Court Jos to step down the matter with a proviso that if we are not satisfied, we reserve the right to return to court.
"We opted to leave the matter until the illegal occupants of our mandate feeling cozy decided to run all of us including the media, players, coaches etc out of administering our game from the next election. They want only chairmen of state FAs to be the only ones eligible to contest. We returned to court and here we are today.
"FOOTBALL MATTERS AND CIVIL COURT: Article 1.1 of Fifa Statute and Article 1.1 of NFF Statute are very clear. Both organisations admitted to subservience to national laws of nations. In Fifa's case, they agreed to be subservient to Swiss laws and the NFF to Nigerian laws.
"Article 1.1 of Fifa Statute states: The Fédération Internationale de Football Association (FIFA) is an association registered in the Commercial Register in accordance with art. 60 ff. of the Swiss Civil Code.
"Article 1.1 of the NFF statute states: Nigeria Football Federation is a private organization of an associative nature in compliance with the laws of Nigeria. It is formed for an unlimited period.
"There are several cases where civil issues in the management of football have gone to courts. The most recent is that of Egypt where a court also sacked the FA which has been obeyed.
"MINISTER'S STATEMENT: He as a party to the suit having dropped the Tweet on his Twitter handle. We are aware of his statement.
"Court of Arbitration for Sports: The board of the NFF went to the Court of Arbitration in Sports in Lausanne, Switzerland. A careful study of the judgment of this court remains a legal classicus.
"We challenged Fifa's letter of 29th August 2014 before the Court of Arbitration for Sports (CAS) in case number CAS/2014/37/44. In its arbitral awards, CAS rightly noted indeed, "NFF election as such and all NFF related NFF deeds have never been challenged before CAS. And surely, the CAS has no direct jurisdiction to review such NFF elections."
"What this means is that the election of 26th August 2014 was never challenged before CAS. CAS had earlier held that, "conversely, the panel may not assess the validity of the various NFF elections on the basis of the NFF rules or of Nigerian law because such appraisal falls outside of the scope of Fifa's authority under Article 17 of its statute and thus, falls outside of the panel's scope of review."
"Thus, then re-echoes through out CAS's arbitral award, that it becomes clear that CAS never determined that we are duly elected on 26th August 2014. As a matter of fact, CAS pointedly put it in the following words: "the panel does not rule that the election of 26th August 2014 was invalid under its proper law because this finding would fall outside the scope of this panel's review. Furthermore, the point must also be made that, in its arbitral award, CAS found out that Fifa could not be said to have given recognition to the purported election of 30th September 2014 in which Amaju Pinnick et al emerged."
"The purpose of the second challenged letter which states in its relevant part was not (and could not have been) to recognise the election of 30th September 2014 as alleged by the Appellants because under its own rules Fifa does not have the authority to positively recognize the election of its member associations."
"Since CAS did not rule that our election of 26th August 2014 was invalid, and also that Fifa could not be said to have recognised the purported election of 30th September 2014 in which Amaju Pinnick emerged, our election being the first in time subsists and takes precedence over the Warri election.
"FEDERAL HIGH COURT JOS: the reason why we went to the Federal High Court in Jos is in respect to our rights under Article 1.1 of the NFF Statute. in spite of that, Fifa's letter of yesterday demanded if such provision was provided in our Statute. In respect of Article 1.1 of both Fifa and NFF, they were provided for. It states: Nigeria Football Federation is a private organization of an associative nature in compliance with the laws of Nigeria. It is formed for an unlimited period."
"The court was our last resort as respectable citizens of this nation. We had patiently followed all the laid down processes. We got the orders of the court and that gave us the rights and the power to do what we are doing. Today, the laws of the land is on our side. We had come to equity and our hands are clean.
"SUSPENSION OF STATE FAs: Based on the Order of the Federal High Court Jos which nullified the Warri elections, that has guaranteed the fact that all actions undertaken by the Amaju Pinnick board are illegal and unknown to law. Therefore, all state Football Associations stand dissolved. Existing board members in the states are free to re-contest their positions.
"It has come to the notice of the Board that the sacked Amaju Pinick board had invited some persons to Abuja to cause confusion, we wish to alert the public that we shall file contempt of court proceedings on such persons.
"Tomorrow (Wednesday), there shall be an Extra-Ordinary Congress of the appointed state caretaker committee in Abuja where decisions shall be reached and communicated to the nation in due course.
"We wish to thank the media, the football loving people of the nation for their philosophical calmness and studied patience. We seek the indulgence of our friends and supporters to keep faith with us."

DO YOU KNOW >>> Lampard reveals why Sheffield United hammered Chelsea 3-0 - EPL
BREAKING >>> 10 things you need to know this Sunday morning - Nigerian newspapers

For All Nigeria Past Questions Visit www.QUESTION.NG
Kindly share this post on different Social Media below
COMMENTS
NOTE: User comments in this section are, as the name implies, provided by users of this website. The question.ng team is not responsible for, nor do they endorse, any of the information provided here.